Kattychick.com

(Main Page) (Pictures) (Shopping) (Travel) (NYC Info) (Weather) (Contact Me)
---
Argentina: Patagonia - Wildlife
Note: Click on the picture to see a larger version.
Patagonia Wild and Domestic Creatures
Argentinean BBQ
Street-side Flowers
Enroute to see the Penguins!
Penguins Penguins Everywhere...


.... My fellow penguins. The Ushaia penguin clan wants a truth. How many of
you are with me? Let us meet them to discuss territory rights ...

...Yadda yadda yadda.... All in favor say "peep."... PEEP! PEEP! PEEP!

All righty then! Let's go but be very careful. The Usaias are quite sneaky. Follow me please! ...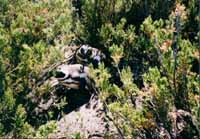 Click a link below to see more Argentina trip photos
(Argentina: Buenos Aires) (Argentina: Patagonia - Glaciers)
Copyright © 2001 by Kattychick.com. All Rights Reserved.