My 32nd floor Hotel View of Shinjuku

Off the Beaten Paths

Japanese Residential Streets

Below: Japanese home garden
Sample (Sampuru) Food Store
| | |
| --- | --- |
| | Sample Food - a staple of Japanese Restaurants. I found 2 stores selling "sampuru" supply along Koppabashi Street in Asakusa. Needless to say, I had to buy some as souvenir. These samples do not come cheap. A piece of sample tuna costs a minimum of ¥750 plus 5% tax. This transalates to ~$6 using an exchange rate of ¥131 to $1. Yes indeed. It is less expensive to eat 3 entire tuna rolls than it is to buy 1 piece of sample tuna sushi. |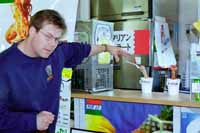 Andy - Having fun with Sample food
Food and Beverage Ticket Machines - generally found outside inexpensive restaurants lined along the streets of Tokyo, inside restaurants and in the larger subway/train stations.

You would decide what you want to eat and deposit the amount of money needed. A ticket will be printed and dispensed. Once you have your meal or drink ticket, bring it to the food counter and hand it to the server. Voila! You wait for your food and chow it down amidst a zillion other harried-looking Japanese businessmen and women.

No minimum wage cashiers required.
Seen along the Street of Asakusa
Ueno Train Station Shops and Yamamote Line
Sights of Ginza
Keio-Plaza Inter-Continental Hotel's Japanese Art Display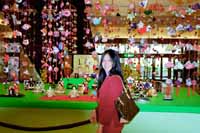 ---
Previous Page - Tokyo: Tokyo Afternoon Tour Next Page - Tokyo: Shibuya & Harajuku
---
Click below for other Photo pages.
(Japan Tour 2002) (Photo Archive)
Copyright © 2002 by Kattychick.com. All Rights Reserved.