India 2001
Delhi and Agra
(Days 18 and 19)
Note: Click on the picture to see a larger version.
Delhi
After arriving at Delhi, I was driven to my home for the next 3 nights, Hotel Classic in Karol Bagh. Immediately after checking in, I left the hotel to explore the area. Can't say I completely enjoyed exploring Delhi, though. Everyone seemed to know I'm a foreigner and wanted to finagle as much rupees out of me as possible. Luna met up with me at the hotel later that evening.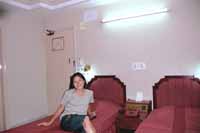 Agra
Red Fort and Taj Mahal
Luna and I signed up for a tour of Agra. We left our hotel at ~6:15am the next morning and did not get to Agra until well past 1pm. The bus rides were long and completely unorganized. We met up with a fellow traveler, Stavzos (a Greek national touring India for the next 6 months), and decided to go off on our own. We wanted to have more time to explore Taj Mahal. To make a long story short, we missed our return bus and had to hitch a ride with another bus back to Delhi for an additional 166 rupees each. We didn't return to Delhi until well after midnight.
Oh! And the cost! It costs foreign visitors $15 to enter the Taj Mahal. Indian nationals pay less than $0.50 admission fee. What a joke.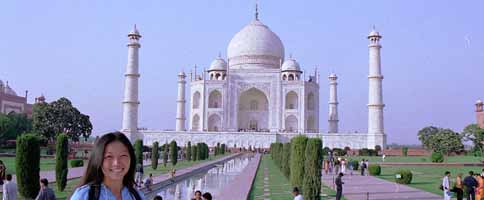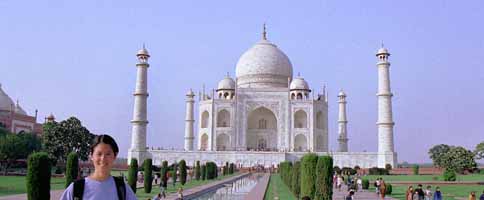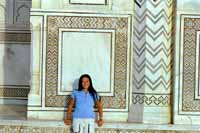 ---
Previous Page - Pokhara & to Kathmandu (D 16 & 17) Next Page - Agra & Delhi #2 (D 19 & 20)
---
Click below to see other Nepal photos.
(Kathmandu (D 1 & 2)) (Kathmandu (D 2 & 3)) (Naya Phul (D 3 & 4)) (Lyangdi (D 4))
(Lyangdi (D 4 & 5)) (Sallijan (D 5 & 6)) (Nangi (D 6 & 7)) (Phulbari (D 7))
(Poon Hill (D 8)) (Ghorepani, Chitre & Saunta (D 8 & 9)) (Chistibung (D 9 & 10))
(Khopra Ridge (D 10)) (More of Khopra Ridge (D 10)) (Holy Lake (D 11))
( Khopra Ridge & Dobaato (D 12 & 13)) (Ghandruk (D 13 & 14)) (Ghandruk (D 14 & 15))
(Enroute to Naya Phul (D 15)) (Naya Phul (D 15 & 16))
Click below to return to the Photo Archive page.
Copyright © 2001 by Kattychick.com. All Rights Reserved.