Nepal 2001
Khopra Ridge - 3600 meters & Dobaato - 3440 meters
(Days 12 and 13)
Note: Click on the picture to see a larger version.
Last morning at Khopra Ridge
I woke up with knee pains this day and decided to stay behind at the camp while the
others ventured to a site about 20 minutes from the camp to see the deepest gorge in the world.
Took pictures of the camp while the others were away.
Notice what my porter was wearing that morning. A pair of flip-flops with socks!
Breakfast Menu: oatmeal cereal with milk, pita bread, hard boiled egg, coffee with hot chocolate

Enroute to Dobaato
Lunch Menu: potato pancake, curried potatoes, tuna fish with onions,
baked beans, fried salami, canned mangos, hot lemon
Dobaato
Hate to say this - but - it was still pretty darn cold at Dobaato.
The walk from Khopra Ridge to Dobaato took forever. Knee problem acted up again.
After dinner, Luna and I could not stop dreaming about eating a nice juicy steak and a bag of cheese Doritos.
Dinner Menu: chicken and ginger broth soup, prawn crackers, green beans, potatoes,
spaghetti, chocolate biscotti cake, tea and a blueberry nutrition bar from Spruce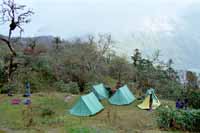 ---
Previous Page - Holy Lake (D 11) Next Page - Ghandruk (D 13 & 14)
---
Click below to see other Nepal photos.
(Kathmandu (D 1 & 2)) (Kathmandu (D 2 & 3)) (Naya Phul (D 3 & 4)) (Lyangdi (D 4))
(Lyangdi (D 4 & 5)) (Sallijan (D 5 & 6)) (Nangi (D 6 & 7)) (Phulbari (D 7))
(Poon Hill (D 8)) (Ghorepani, Chitre & Saunta (D 8 & 9)) (Chistibung (D 9 & 10))
(Khopra Ridge (D 10)) (More of Khopra Ridge (D 10)) (Ghandruk (D 14 & 15))
(Enroute to Naya Phul (D 15)) (Naya Phul (D 15 & 16)) (Pokhara & to Kathmandu (D 16 & 17))
(Delhi & Agra (D 18 & 19)) (Agra & Delhi #2 (D 19 & 20))
Click below to return to the Photo Archive page.
Copyright © 2001 by Kattychick.com. All Rights Reserved.